Milestones in 2016-17
This timeline from April 2016 to March 2017 showcases some of the key moments in the year for Bristol Health Partners. From a successful Urban Living Partnership funding bid, to the publication of NIHR CLAHRC West's paper evaluating the Health Integration Team (HIT) model, it highlights some of Bristol Health Partners' achievements over the last year.
A range of events, including Psychosis on Screen, the third HIT conference and an art exhibition by people with experience of eating disorders all make an appearance, as do some of the HITs' mentions in national and international publications.
Healthy City Week Bristol 2016
What do Dr Phil Hammond, apple juice pressing and social prescribing have in common? They were all part of Healthy City Week Bristol 2016, which took place from 15-22 October.
Healthy City Week is a programme of events, taster sessions and activities that aims to inspire citizens of Bristol to achieve healthier lifestyles as part of a more sustainable future city. Healthy City Week is organised by Bristol Green Capital Partnership. In 2016 it saw 200 events in 46 venues, and more than 5,000 event attendances.
Research and partner highlights
Bringing together the top health research stories from across the partnership and the Bristol city region, this review highlights some of the sector's key research achievements.
2016-17 saw Bristol awarded £21 million for a new NIHR Biomedical Research Centre, and the opening of the West of England NHS Genomic Medicine Centre. The UK's largest trial looking at prostate cancer treatments published its first results, and a €4 million research project to develop wearable robotic gloves for surgery was launched.
Read the 2016-17 research and partner highlights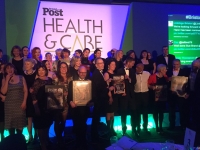 Bristol Health Partners – five years of achievement
The first Bristol Health Partners partnership agreement was signed in April 2012, with a lifespan of five years. It's been extended for another year while our future direction is mapped out, but it's a good moment to reflect on what Bristol Health Partners has achieved during that time.
See some of the partnership's key achievements over the last five years